Incastt Machines
Wax Room
4 Pillar Wax Injection Machines
Vertical Wax Injector - Pneumatic C type
Vertical Wax Injector – Hydraulic C type
Wax Injection Machine (12 Ton)
Wax Injection Machine (25 Ton)
Wax Injection Machine (35 Ton)
Wax Injection Machine (50 Ton)
Incastt Machines provides the industry's most durable wax injection system, resulting in higher casting yields, more patterns per hour, and increased productivity and throughput. All injection settings are controlled by our easy process control.
The WIM PXX is an open 4 pillar designed to accommodate all die designs and sizes. Operator controls are ergonomically located for efficient operation. Our engineering support staff is prepared to help determine the configuration that meets your needs and will optimize your throughput.
Fastest in the segment, machines are designed to work with the shortest possible cycle times, enhancing productivity. Efficiency booster add-ons to suite customers specific needs and applications, Shuffle tables, Pattern Ejectors etc.
WIM PXX is available in four sizes with clamping forces of 12, 25, 35, and 50 tons.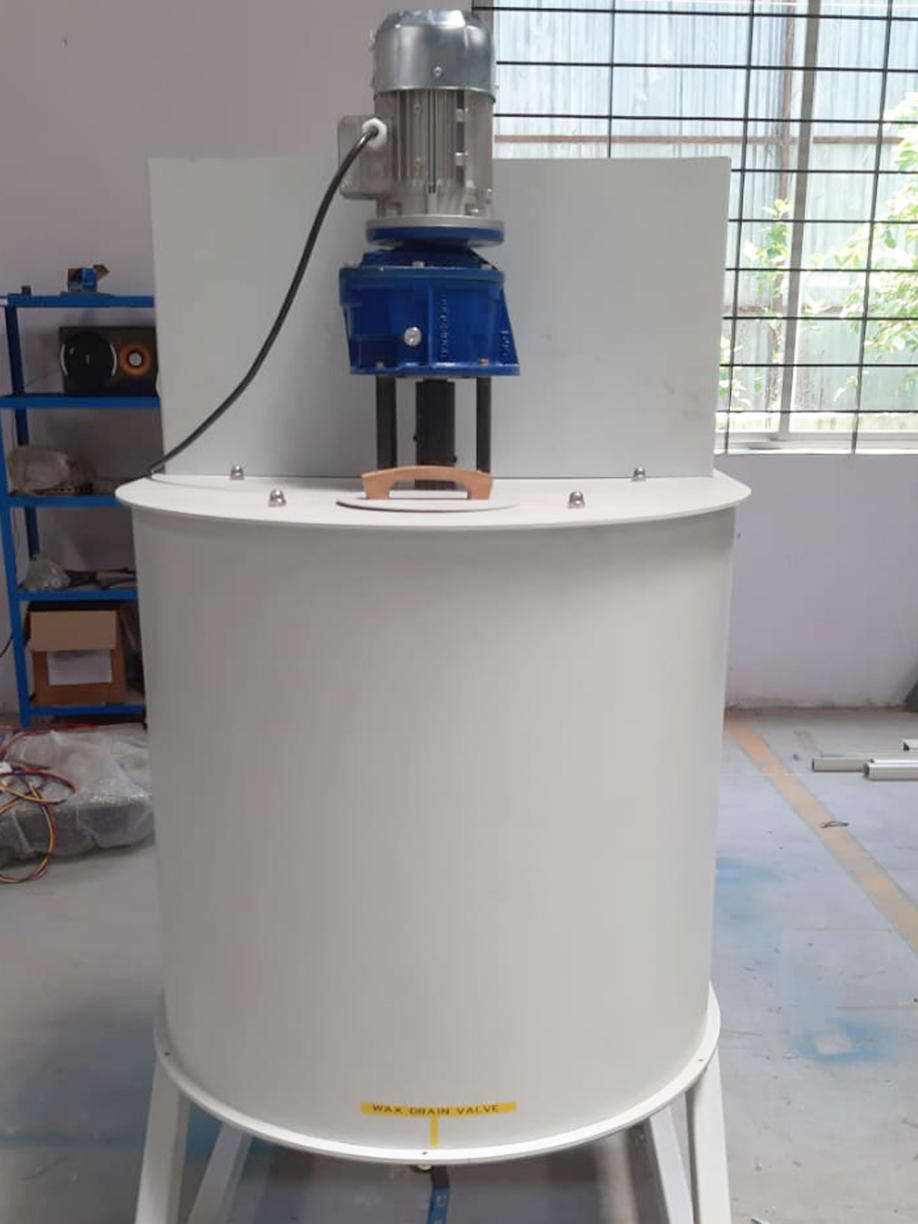 Wax Melting And Condition Machine
Before wax is used in injection machine, the solid wax is melted, conditioned, and brought to a certain temperature. The machine is provided with a melter on the top of conditioning chamber. The conditioning tank is provided for collecting, conditioning and maintaining constant temperature of molten wax with the help of stirrer.
Machine has thermal insulation on all sides and heaters are designed to maintain constant temperature of molten wax. The heater is easily accessible for maintenance. A sturdy and well-designed stirrer mounted on thrust bearings is provided to ensure homogeneity of the wax blend.
Wax is a costly input. The only method of reducing the effective cost is to reuse the wax as many times as possible. The Wax recovery system is used to 'recover' de-waxed wax for reuse as pattern wax. The hot de-waxed wax from the autoclave is fed to the system pump. Firstly, the wax is melted and held at a stable temperature in the wax melter.
This wax flows to the preparation tank to ready it for the centrifuge. Here a major part of the water and impurities are separated. This prepared wax is passed through a centrifuge to remove the residual water and impurities. Care is taken such that the wax temperature never crosses 100 deg C.
This ensures that the quality of wax does not deteriorate. This centrifuged wax can be transferred to the blending tank for addition of fresh fillers and blending. The process yields good clean wax for reuse. System capacity is an output of 1Kg clean wax per minute.